According to recent research, millions of people worldwide watch video every day. In this modern age of technology and video marketing, it is the music of a video that can attract the attention of your audience and make them watch up to one-third of your video.
The soundtrack plays a significant role in your videos; either they are used in the video to explain the features of your product or for a funny video on social media. It creates a great impact on the viewers and makes your videos more charming, meaningful, and impressive as well as powerful.
Finding music that fits your style of film or other projects can be hard, and it is even harder to find it licensed. Having a good soundtrack for a video can be quite difficult, also, there are no musicians to whom you can contact to create the music since they are often expensive.
These days, there are various free stock music websites that provide the royalty-free soundtrack. That is why we have created this post for you as it tends to highlight the Top Best free stock music Websites that can help you to have a good soundtrack that grabs your audience right from the start till the video ends.
"Free stock music" also known as "Royalty-free music" is a type of music in which you have to pay only once but you can use it for as many applications as you want. It is, in fact, copyright-free music.
So, if you want the perfect song for your game, explainer video or any website or app and you want your audience to think more of your brand, then do not wait anymore and take your notes because all these royalty-free music sites will definitely assist you in making the right soundtrack of your video. Let's explore these sites together.
List Of 27 Free Stock Music Websites (2020)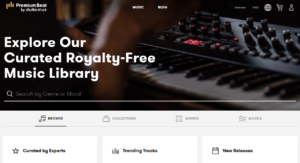 PremiumBeat is the most popular royalty-free music site in the year 2019. It is owned by the world's notable image library and a creditable brand, Shutterstock.
This music website has a variety of royalty-free music based on various genre, duration as well as beats. It has a great collection of music just like the large production houses offer. This website is quite user-friendly and has easy navigation.
So, if you want to make the perfect music for your videos, then just go for Premium Beat as it has more than 10,000 amazing soundtracks that are free from copyright issues.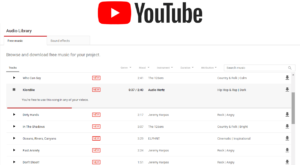 If you are looking for amazing music as well as sound effects for your YouTube videos, then Audio Library is, indeed, the most worthy option.
Audio Library is a music library by YouTube which is completely free. It has several soundtracks that can not only be searched but filtered easily as well.
You can get the audio files and include them in your YouTube videos or there is also an option of Download with the help of which you can download the soundtrack and use them in your video when you are offline.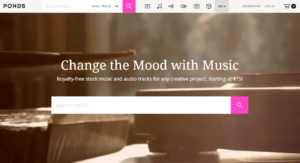 Pond5 is the third top best royalty-free music site on this list that has the potential to change your mood with the music.
This is because it has a MASSIVE collection of royalty-free soundtracks with the help of which you can go for a creative project.
It has some impressive and perfect soundtracks that you can use for backgrounds, documentary, drama, explainer videos, cinematic videos as well as the trailers.
So, what are you waiting for? Just pick any of the sounds to create a sound effect or an after effect for your video from 500,000 + soundtracks.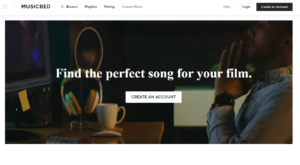 Musicbed offers music licensing services and they've been around for quite a while. They have one of the best-curated libraries of music available for license from real musicians.
Musicbed licenses music to different kinds of projects from films, wedding videos, explainer video, and other projects.
Their mission statement is "all about making quality music easily accessible for licensing, empowering creatives to tell better stories and supporting musical artists" (musicbed.com).
The music on this site is well is organized according to artist, song, project type, genre, mood, lyrics or no lyrics and more. The music here isn't completely free, but you can get a 30 days free trial before making payment.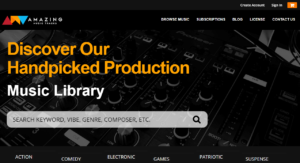 Amazing Music Tracks is one of the free stock music websites and also another great place to license royalty-free music.
This website partner with award-winning composers to provide the best high-quality royalty-free music. 
Although the website does have all of the music organized into over three hundred different categories making it easy to find the specific track you are looking for.
However, it's important you know that other than the free stock music available here, there are also paid music available.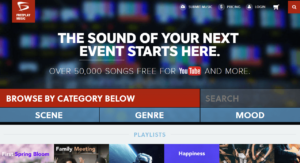 Freeplay Music has been around since 2001 and has over 15,000 free stock music tracks you can choose from. This music is completely free for use in non-commercial and non-profit uses.
In 2013 Freeplay Music entered into an agreement with YouTube that revolutionizes how people use music and videos on the internet. 
Under this new agreement, all the tracks in the Freeplay Music library will be FREE for use on YouTube (personal use only).

If you do decide to use this music in a commercial production you will have to purchase a license.
In conclusion, this free stock music website is the best choice for non-profit organizations and other non-revenue generating uses.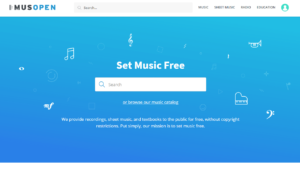 Musopen is a non-profit focused on improving access and exposure to music by creating free resources and educational materials. They provide recordings, sheet music, and textbooks to the public for free, without copyright restrictions.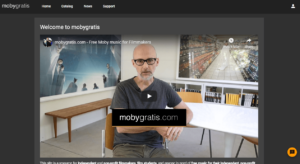 Mobygratis is the next on our list of free stock music websites. This website is a resource for independent and non-profit filmmakers, film students, and anyone in need of free music for their independent, non-profit film, video, or short. 
Using this website is simple. All you have to do is create an account. For commercial purposes, you must have to buy a license.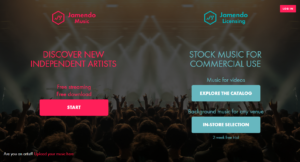 If you are looking for the perfect soundtracks for your project then you might want to check Jamendo. This website connects musicians and music lovers from all over the world.
This goal of Jamendo is to bring together a worldwide community of independent music, creating experience and value around it.
Their philosophy is that "any artist in the world is entitled to share his music and should have a chance to be heard by a greater number of people around the world".
Jamendo has a wide catalog of over 500,000 tracks shared by about 40,000 artists from over 150 countries all over the world. You can stream all the music for free, download it and support the artist.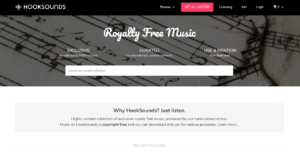 HookSounds was started by Alvaro Angeloro and Veronica Viera with the aim of creating a credible site that offered quality, curated royalty-free music.
When they launched the website it only had a couple of commercial tunes that Alvaro had previously composed for various brands, however, HookSounds gradually built a loyal audience and soon became a hit!
Many companies avoid standard stock music because it sounds generic and uninspired. Most online content creators are now looking for modern, stylish and distinctive music and this is what HookSounds strives to provide.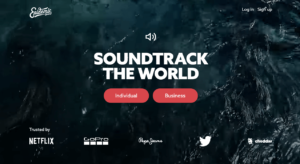 Epidemic Sound offers almost all the genres of royalty-free audio tracks.
This website which has a diverse collection of high-quality music is becoming so popular among people day by day that it gets over 10 billion views every month on Facebook and YouTube.
This music website was made back in the year 2009 with one or two albums but now it has reached to the point where it can offer you with 725 music albums on the basis of different genre.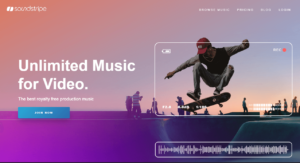 This website, in fact, the best place if you want to get the copyright-free audio track for your videos and websites.
It is gaining popularity due to its finest high-quality royalty-free music production for the advertisers on YouTube, the video makers as well as the content creators.
It is quite different from other royalty-free music websites that we have come across.
Sound Stripe offers a subscription service with the help of which you can get the best music from their hand-picked audio track collection. It offers a unique music library that is curated very carefully.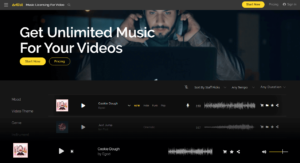 This website will definitely take the first position if there is a prize for the best royalty-free music website. With the help of Artlist, you can get unlimited music for your videos.
It provides original soundtracks to the well-renowned companies such as Microsoft, Animal Planet as well as National Geographic. These audio tracks are diverse and are of high-quality.
They are based on various genre, duration as well as beats. In short, if you are in search of sizeable best audio track collection, then Art List is the website that you need.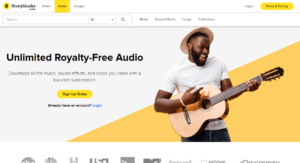 Another top and best royalty-free music website is Audio Blocks.
This website features a huge library of soundtracks that are updated from time to time so that you can always get fresh audio tracks for your videos.
It has a list of best soundtracks of the year that can help you in making your videos more impressive. The plus point is that there is no limit on the number of videos to download.
In this way, you can download the music and can use it for personal as well as commercial projects.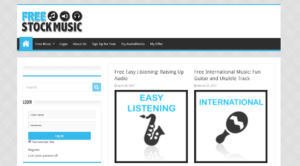 The name of this website explains everything. As the name implies, this website has a huge stock of beautifully produced free music that you can use for your film as well as video.
Based on the style, duration, and vocals, you can get access to thousands of free audio tracks. Such soundtracks are available in MP3 and WAV formats.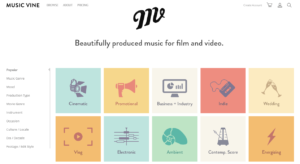 If you in search of a platform that can provide you with better music for your films at an affordable price, then you should go for Music Vine.
Because this website has an enormous database of soundtracks that includes the music for cinematic videos, wedding and promotional videos.
Moreover, the Music Vine provides the audio tracks for vlogs, dramatic videos as well as inspiring and cool videos. You can filter these soundtracks easily on the website and can download them also.
In short, this website is best for discerning video professionals.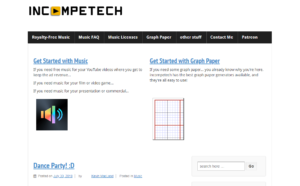 Incompetech is a famous music website that can definitely take your video production to the next level. It provides the video and filmmakers with the best soundtracks that are copyright-free.
The best part about this website is that the music for each category is separated that makes the website quite easy to search, filter as well as navigate. Its music library updates the soundtracks on a regular basis.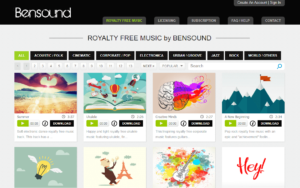 The next royalty-free music site on our list is BenSound. It also provides the exceptional soundtracks that you can use in your videos, animations, film as well as websites.
There are no credits for the subscription and buying of the sound effects. In this way, you can get yourself free from the copyright anxieties.
Like other websites, Ben Sound has easy navigation and colorful theme.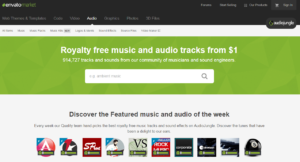 AudioJungle also provides the video makers and the filmmakers with the royalty-free music and audio tracks.
It has a great team of music professionals that hand-picks the soundtracks and background music on the website and review them one by one.
This website consists of a large top-quality audio track library with the help of which you can discover the music that not only gives delight to your ears but also helps in making your project sound right.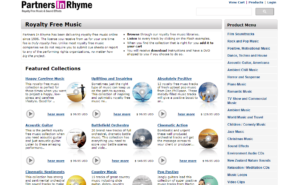 The next website in our list of top and best royalty-free music sites is the Partners in Rhyme. This website has a blend of music that includes background music, audio tracks as well as loops.
It also contains a huge library of music that ranges from rock and dance to pop and romantic music. You can also download the soundtrack from this website.
In short, if you want to get the best music for your films, videos, websites as well as TV shows, Partners in Rhyme will definitely help you.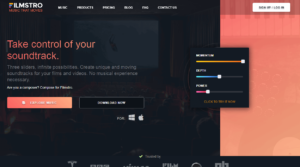 Filmstro is another royalty-free music website that contains different categories of soundtracks.
What makes this music website unique is that it gives the user the ability to customize the audio track according to his own choice.
With the help of Filmstro, you can take control of your soundtrack on the basis of power, depth as well as momentum.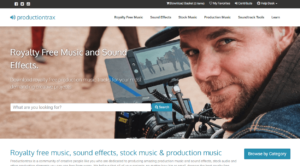 If you want to get the exceptional soundtrack for your videos for free, then there is a great website known as the Production Trax.
It provides you with a great stock of music of different categories without any subscription, credit as well as contract.
According to the recent reviews by the people, this music site is aesthetically pleasing as well as user-friendly.
This website is quite easy to use as it does not contain fancy libraries of the soundtracks.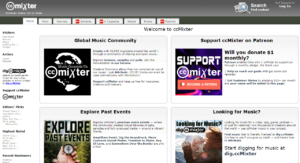 ccMixter is one of the fabulous royalty-free music sites that contain more than 120 audio tracks.
Its soundtracks are such that you can use for your YouTube videos, films, documentaries, dramas, video games, websites as well as mobile apps.
The plus point of this amazing music website is that there is no need to create an account to get the music as well as download it.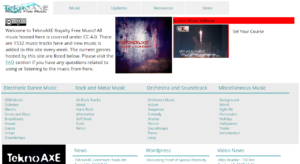 TeknoAXE is a great music website that provides royalty-free music. It has more than 1500 pre-cleared audio tracks that cover almost all genres.
Every week, the fresh and latest audio tracks in MP3 format are added in TeknoAXE music website. The aesthetics of this website along with the graphics, menus as well as the navigation attracts the audience.
These days, the soundtracks of this website are used by some major companies.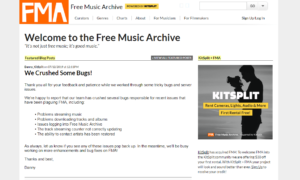 Free Music Archive is another amazing site that is considered as a rich source for the royalty-free soundtrack.
It has an interactive library of music with the help of which you can get amazing as well as engaging soundtracks for your videos.
In short, this copyright-free music site offers a searchable library of soundtracks that you can add directly to your YouTube videos.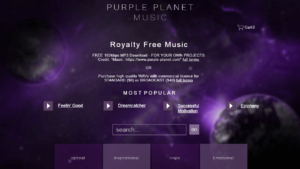 As the name implies, the theme of this website is purple in color and is very pleasing to look at.
This website is also royalty-free where you can get impressive soundtracks for small personal as well as commercial video projects. In short, Purple Planet is a great option indeed.
Purple Planet is not only user-friendly but easy to search and navigate. Its goal is to keep the creatives creating and it is working on that.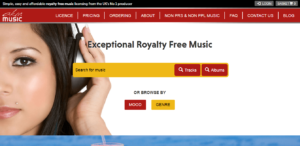 The last royalty-free music site in our list is AKM. It also provides great soundtracks. This website offers great deals from time to time.
Now, along with the royalty-free music, it also offers 2D and 3D music assets, video footage as well as stock effects.
This website is also easy to navigate. Plus, it can be searched and filtered easily.
Final Thought                
There are many videos that stir up the specific feelings and sentiments with your brand but there are other videos as well which people watch only half and then close the video.
So, the factor that makes the difference in such videos is the music that soundtracks our videos. In fact, the soundtrack plays a crucial role in the field of video marketing and the digital world.
All the above-mentioned royalty-free music sites can help you in getting the perfect song in your video in 2020. The soundtracks offered by these websites are free to download.
There is no need for a license to get the music. Plus, once purchased, you can use the music for various commercial uses.