Are you looking for the best free 2d animation software in 2021 for your project? If that's the case, then read on to discover the amazing free animation software you can use for your videos.
In this technological world, animated explainer videos are becoming popular day by day as they are used in our day to day activities (in the movie industry, schools, medical, government, business, and so on).
These days, the concept of animated video messages is also gaining popularity in businesses.
The entrepreneurs are using animated videos to run a successful as well as a productive marketing campaign.
But there is a problem. Although this form of marketing is very effective at explaining an idea and convincing viewers into taking action, however, it's very expensive.
A typical 2d animated explainer video produced by an average video agency can cost anywhere from $2,500 to over $50,000. Click here to read a full post on this subject.
What?? That's way too much for a student who wishes to use animated video to explain his ideas or a start-up who have little money to invest.
On the other hand, there's several free animation software out there that can help you create your own animation, convey your ideas to your viewers and most importantly, you don't even need to spend thousands for it.
And that's what I'm going to share with you in this post.
In today's guide, you will learn the best 21 free 2d animation software or online tool that will definitely meet your need of making an animated explainer video and increasing the engagement of your audience.
These types of software come with amazing features and some are available online and offline as well.
All these software can help you to make animated videos for education, documentary, film, cartoons, websites, apps, business as well as video games.
In short, they provide more flexibility to the animators.
The best part about the below-mentioned animation software is that you do not need to pay to sharpen your animation skills.
Let's explore these free animation tools together.
Note: The main focus of this post is to show you the best free 2D animation software, however, for clarity sake, this post has been grouped into two categories. 1. Best Free 2D animation software and 2. Best 2D animation software (Free Trial)
A. Best Free 2D animation software
The first animation software on our list is Pencil 2D. This is completely open-source and free to use even for commercial purpose.
Pencil 2D is one of the tops and best free 2d animation software, it has a unique workspace and it's focused on traditional frame-by-frame animation so every frame is made from scratch.
This online tool is gaining popularity among animators with the passage of time due to its stunning 2D animation and graphics. It is cross-platform and runs on Windows, macOS, Linux & FreeBSD.
Pencil 2D is a very simple software but the best part about this animation software is that it provides a variety of features completely free of cost that other animation software provides at a cost.
This software is, in fact, changing the game of the animation industry.
If you want to create an amazing 2D animation project, Synfig can help you achieve that goal.
Synfig is free and open-source 2D animation software licensed under GNU GPL v3.
This animation tool was released back in the year 2005. It can run on various operating systems such as Windows, Linux and Mac operating system as well.
You can use the stable version and the development version of this software in your projects.
So, if you are a beginner, you can easily use Synfig to create amazing animation videos.
If you are a beginner in the field of animation and you want a simple and easy animation tool that is free of cost, then going for TupiTube animation software is not a bad choice at all.
Tupitube is one of the best free 2D animation software created in 2002. This software focuses on beginners, children, and teenagers.
It offers a variety of graphics and animation features with the option of download. This makes the process of getting started with animation videos very easy and manageable.
Tubi offers both free and premium plan for users.
Windows, Linux, and MAC operating system support TupiTube online tool. In this way, it provides great flexibility and versatility.
If you want to develop and create 2D animation videos, then do not hesitate to give OpenToonz a try because this is an incredible 2D animation software which is not only free of cost but also open-source as well.
This feature of open-source has made it very popular among the animators. This is because, with the help of OpenToonz, you can make alterations in the graphics and animation content according to your own needs.
You can use this tool for personal as well as commercial animation projects.
In addition to that, this software also provides various plugins as well as development kits.
It works perfectly on Microsoft Windows, Linux and Mac operating systems.
The next in our list of best free 2D animation software is Krita.
Krita is a free and open-source cross-platform application that offers an end-to-end solution for creating digital art files from scratch.
Krita is optimized for frequent, prolonged, and focused use. Explicitly supported fields of painting are illustrations, concept art, matte painting, textures, comics, and animations.
It is supported by almost all operating systems. Krita can be used for any kind of drawing and illustration; however, it's mostly used for comics.
This great animation software has a diverse collection of advanced animation and art tools.
Krita gives you the facility to import as well as export the image sequences. In short, it provides a great animation workspace for the beginners and the professionals.
Krita is an amazingly powerful drawing, painting, and animation program, and it's completely free to download and use.
Plastic Animation Paper is our favorite animation software that provides intuitive layouts free of cost.
This software is created for beginners, pro animators, students, filmmakers, and game developers.
Plastic Animation paper works great on Microsoft Windows, Mac, and Linux operating system. It provides well-designed icons that you can use easily in your animation projects.
In short, if you want some exciting as well as powerful animation results, then just give Plastic Animation Paper a try. We assure you that you will love this free animation software.
Just as the name suggests, Stykz is a freeware application that allows users to create stick-figure and sprite animations.
If you want some well-designed stick-figure animation, then Stykz is the perfect option.
It is also one of the best free 2D animation software. It is, in fact, a 2D animation software that is supported by many operating systems such as Microsoft Windows, Linux, UNIX as well as MAC operating system.
Stykz can also be imported into other applications. What makes it unique is its compelling interface.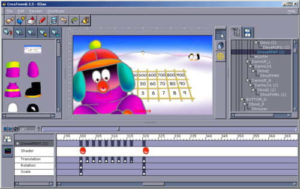 CreaToon is a freeware and one of the best free 2d animation software for beginners.
It is a simple program that allows you to create 2D cut-out animations and add various special effects to it.
Creatoon has a simple and obsolete graphical user interface. However; the functions it can perform are quite complex.
Creatoon comes with amazing pre-made graphics and animation tools.
In addition to that, this animation software provides the facility of editing in real-time.
It is compatible with Microsoft Windows operating system. Its exciting artwork and animation always grab the attention of its users.
Svgator is an SVG animator, so it will export your animation in a vectorial format that's scalable and responsive.
It's easy to use and if you're a beginner you can learn from the tutorials and help pages designed to help you master it. You can also get started by animating the library assets they provide for free.
It's an online 2D animation tool, so it works on any operating system and you can access your work anytime, anywhere. The free plan includes 3 animation exports/month, so you can give it a try to see if it suits your needs."
B. Best 2D animation software (Free Trial)
Animaker is a web-based software for creating animated videos in a variety of styles, such as 2d animation, infographic, kinetic typography, whiteboard, and many more.
It is, in fact, one of the best free 2D animation software available today. It is a very simple and easy to use animation tool which is perfect for a beginner.
It uses a simple drag and drop feature that allows you to add and edit elements. Animaker offers a wide range of animation templates that you can use in your projects.
It does not charge anything for these templates. The best part about this free animation software is that it has a massive library of animation props and templates which can be used with the drag and drop feature.
This is the reason this online tool is gaining popularity among animators day by day.
Although Animaker is a freemium software, it also has a subscription-based pricing model which you may need if you want to unlock all of the features it offers.
11. PowToon
PowToon is a web-based and DIY animation software that can help you to create amazing videos that not only captivate and engage your audience but also pass your message effectively to your audience.
This web-based program is mainly used for creating interactive presentations and various explainer video styles (including 2D animation).
Powtoon comes with a free and paid plan. The free plan allows you to create a video up to 3 minutes in length in standard definition.
Powtoon provides a variety of templates so that every animator can use and customize it according to his/her needs.
The PowToon animation software also provides the animators with the facility of exporting the content of the video to various social media platform.
So, do you wish to take your animation skill to the next level? Go ahead and explore the massive library of PowToon to enjoy the royalty-free animation and graphics content to use in your presentations as well as short videos!
Rawshorts is another amazing tool on our list of the best free 2D animation software.
Rawshorts is a web-based animation software that uses an artificial intelligence video editor with a drag and drops feature to help businesses make explainer videos, animations, and promo videos for their website and social media platforms.
Rawshorts focuses mainly on the use of premade templates, objects, scenes, and other features to make a stunning animation.
Raw Shorts is a freemium software, this means that users can take advantage of their free plan.
However, to unlock all the amazing design tools available in Rawshorts, you will need to either pay for a monthly subscription or pay per export.
Moho is one of the best free 2D animation software that can do wonders for animators.
Although Moho allows you to try their software for 30 days, it offers a premium package which you can buy if you're satisfied with the free trial.
With Moho, you can easily bring your imagination to life!
Moho allows you to create amazing 2D movies, cartoons, vector, stop motion, and cut out animations.
It also allows you to create your own desktop animated shorts in the style of traditional cartoons or use it to produce animations for film, video or streaming over the web.
This software provides advanced animation as well as editing tools. It also provides free plugins.
It does not matter that you want to create a small project or you want a huge assembly, Moho will always give you great benefit.
Moho comes in two major versions.
The first one is the Moho Debut that provides limited functions related to the image and video size and length.
Its second version is the Moho Professional that provides more functionality and supports Windows and MAC Operating System.
Cartoon Animator 4 is a 2D animation software created for both beginners and professional animators.
This software allows you to:
Turn images into animated characters
Control characters with your expressions
Generate lip-sync animation from audio
Accomplish 3D parallax scenes
Produce 2D visual effects
Access content resources
And wield a comprehensive photoshop pipeline to rapidly customize characters and create content.
The company behind this unique software is Reallusion Inc. a 2D and 3D animation software and content developer firm.
Just like Moho, Cartoon Animator offers a 30 days free trial and it's available on Windows and Mac operating systems. 
Toon Boom Harmony is a 2D animation software with full production capabilities designed for students, freelancers, artists, and professional animators alike.
Harmony is owned by Toon Boom Animation Inc. a Canadian software company that specializes in animation production and storyboarding software.
This 2D animation software finds its application in various sectors including, education, healthcare, film, animation, game, and business sectors.
It is used by some of the popular animation studios like Walt Disney Animation Studios, Warner Bros, Pixar, Mercury Filmworks, and many more.
Also, some of the popular animation movies created using Toon Boom animation software include;  Rick and Morty, Bob's Burgers, SpongeBob, The Simpsons and more.
Toon Boom Harmony isn't completely free; however, it allows you to try the product for 21 days.
Adobe Animate is a 2D animation software suitable for beginners and pro users who want to take their animation skills and projects to the next level.
This software was developed by Adobe Systems and gives the new trend for animation.
This animation software is full of features. You can use Adobe Animate to design interactive vector and bitmap animations for games, apps, and the web. Bring cartoons and banner ads to life.  And add action to tutorials and infographics.
With Animate, you can quickly publish to multiple platforms and reach viewers on desktop, mobile, and TV.
You can try out Adobe Animate using their free trial version on their website.
For a complete beginner, you will find this software quite interesting.
FlipBook is unquestionably the easiest 2D animation software. But it is still powerful enough to do everything most animators will ever need.
And you'll be surprised how fast it can do it.  In fact, FlipBook is so fast that you can make changes while a scene is looping and you will see your changes the next time the loop starts over.
At the moment, this 2D animation software is only available for the Microsoft window and Mac operating system.
FlipBook doesn't offer a free trial. However, you can download and use the software with watermark present on every frame.
This watermark can be removed once you purchase the FlipBook.
TVPaint Animation is a complete and flexible software used for drawing, storyboarding, animatics, illustrations, post-production, and for 2D traditional animation (including management of soundtracks), and all in a single interface.
TVPaint uses bitmap technology, which allows you to mimic lifelike traditional renderings: pencil, watercolor, oil painting, charcoal, oil pencil.
The flexibility of TVPaint allows you to create your own drawing tools, thus your own artistic renderings.
The software supports most of the operating systems existing today including Windows, Mac, Andriod and more.
TVPaint software is versatile enough for a wide variety of industries and productions, both large and small.
To date, they include 2D and 3D animation studios, special effects studios, video games developers, production studios, freelance artists, dubbing companies, art students, TV networks, hobbyists.
Antics Workshop produces animation of all kinds for TV, cinema, web design, corporate video, multimedia, DVD-ROM, and the like.
The Antics 2-D Animation software is a proprietary vector-based 2-D application for animators and graphic designers, running under Microsoft Windows.
It was created in 1972 by Alan Kitching, the British animator, graphic designer, and software developer.
Right from its early days, the aim of Antics was to provide an easy-to-use tool that would allow a single individual to produce animation that otherwise might require a whole team of people.
Antics is inspired by a belief in animation as the most powerful medium… not only for cartoon entertainment, but also for communicating ideas and 'explaining things' in almost any field… science, medicine, business, education, journalism, and more…
From the beginning, there was the vision that this tool would one day be easily available to all, including the individual home user — not just the professional studios.
Antics Classic for Windows now makes this a reality. This software offers a 45 days trial.
Toonz Premium is the meeting point of the traditional and paperless animation production workflows.
It provides state-of-the-art tools for both the approaches for endless creative possibilities and allows you to follow your personal approach to computer-assisted animation fast-forwarding tedious and time-consuming steps.
The product description is divided into four main areas only to simplify, all the modules are connected and included in Toonz Premium.
This software is available for Windows 7, Windows 8, Windows 10, Mac OS X 10.8 and later.
Popular users of Toonz Premium include cartoon network, Studio Ghibli, Dc Comics, Fox Animation, Curiosity, Folimage and many more.
Toonz isn't free; however, there is a free trial version available on their website.
Adobe AfterEffects allows you to create cinematic movie titles, intros, transitions, and animation.
You can remove an object from a clip. Start a fire or make it rain. Animate a logo or character.
With After Effects, the industry-standard motion graphics and visual effects software, you can take any idea and make it move.
Adobe AfterEffects has a free trial version which you can download from the Creative Cloud apps catalog.
You'll need to sign in with an Adobe ID and password to download a trial.
To sum up
Getting the right 2d animation software for your project can make your work a lot easier and can equally improve your overall efficiency.
Of course, animation is everywhere whether we talk about Toy Story or Flash Cartoons. Thanks to the animation software because with the help of these, the animators are making each scene of their videos as realistic as possible.
All the above-mentioned 2D animation software can help you in improving your craft.
They are ranked on the list on the basis of quality, ease of use as well as price.
Go and pick any of the above-mentioned free 2D animation software to add an extraordinary animation to your videos in 2021.